While pundits like to say that the gas station will be dead in the future as we transition to a fleet of electric vehicles, what most of these prognosticators miss is that the standalone gas station is already dead. Over the last few decades, gas stations fundamentally morphed into convenience stores that sell fuel in the form of gas and diesel in front of their store.
The fuel, dispensed via gas pumps, is what draws in customers and then some of them will go inside the store and purchase high margin items including coffee, beer, slushies, sandwiches, cigarettes, milk, and other items. The traditional standalone gas station was also replaced by the major big box retailers such as Costco and Sam's Club, as well as supermarket chains like Safeway.
Several of the regional convenience store chains such as Sheetz, Pilot Co., Kum and Go, and WaWa have deployed DC fast chargers for a few years, and now the global CS chains and fuel companies including 7-Eleven, Circle K, BP, Shell, and Phillips 66 are entering the charging business.
A few days ago I had a long conversation with an executive in charge of EV charging deployment at one of the leading convenience store chains and he said something that I found fascinating. He thinks that eventually many convenience store chains — which fundamentally are in the refueling business — will expand their EV charging business beyond their store parking lot to off-premise locations.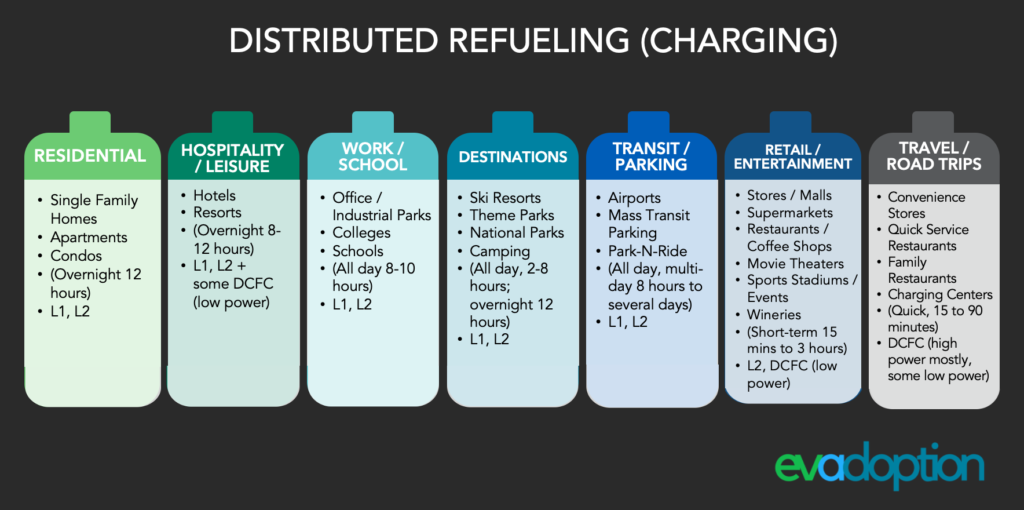 Per my chart above, this is a recognition that the majority of "electric refueling" will NOT occur at centralized charging stations, but rather everywhere cars park such as at workplaces. I can see this happening in the future, perhaps 3-5 years from now, as for the next several years convenience store chains will likely be focused on building out their own store location networks and building up charging deployment expertise.