Sheetz, a restaurant and convenience chain in the Mid-Atlantic, announced that it has surpassed two million electric vehicle charging sessions.
Sheetz, which first got involved with EV charging in 2012, has 650 chargers at 95 store locations (14% of its 679 stores) and plans to expand its electric vehicle charging network in the future.
"With nearly 700 stores across Pennsylvania, Maryland, Virginia, West Virginia, North Carolina and Ohio, Sheetz has an established infrastructure with plans to expand our electric vehicle charging network in the future," said Trevor Walter, Vice President of Petroleum Supply Management at Sheetz. "Charging customers also have access to safe, well-lit locations offering Made-to-Order food, premium coffee, restaurant-style seating and more, all open 24/7/365."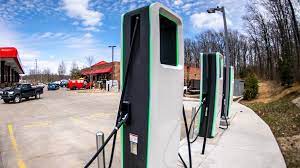 "Our goal at Sheetz has always been to be the ultimate one-stop-shop, to help customers to refuel – or recharge – your car and refresh your body. With the market for electric vehicles gaining popularity, Sheetz is committed to building a network now for the future needs of our customers," Walter continued.
Sheetz currently operates 679 store locations across Pennsylvania, North Carolina, Virginia, West Virginia, Ohio and Maryland, with all locations open 24/7, 365 days a year.
Source: Sheetz press release