Nearly 11 months after all 50 states plus Puerto Rico and the District of Columbia received approval of their National Electric Vehicle Infrastructure (NEVI) plans from the Federal Highway Administration (FHWA), five states have announced final or conditional awards to applicants for a total of 120 sites, and an estimated 574 charging ports.
The five states and the date awards were announced and the number of site awards are:
Hawaii: July 11, 2023 | 8 sites, with the specific locations yet to be determined for several of the awards
Ohio: July 13, 2023 | 27 sites
Maine: August 1, 2023 | 7 sites
Colorado: August 3, 2023 | 24 sites
Pennsylvania: August 14, 2023 | 54 sites
Want more detail on these bids and/or need to track all things NEVI? Become a subscriber to our NEVI information database and newsletter subscription services.
Find more information on our NEVI subscription service.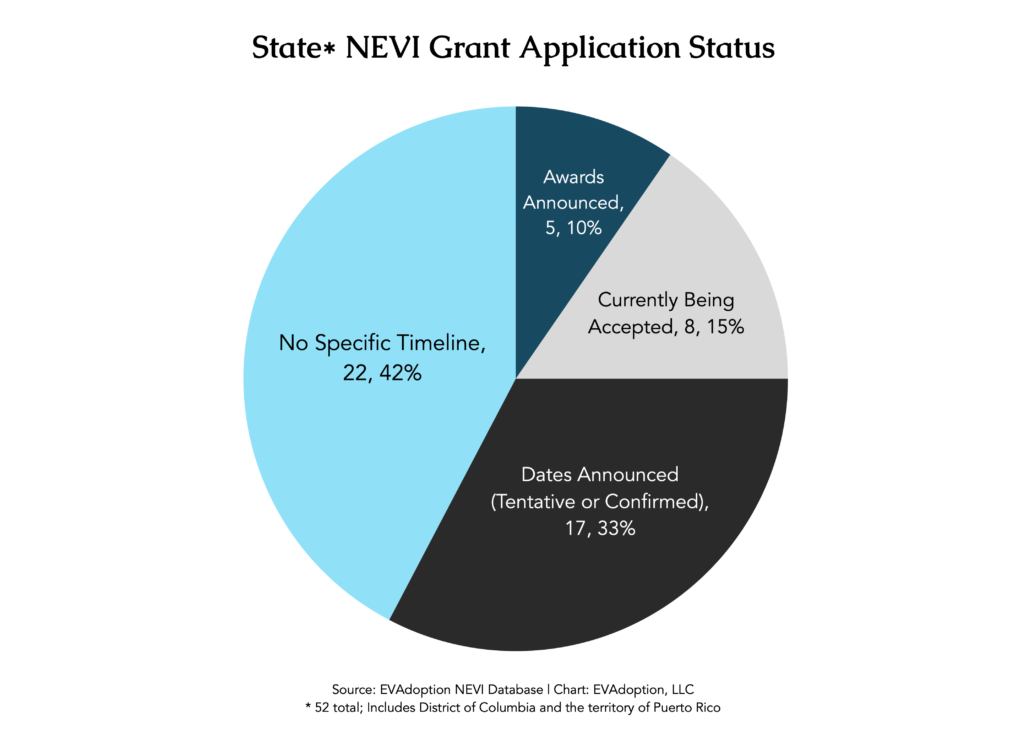 Application Progress and Status
In addition to the five states that have announced NEVI bid awards, eight more states have opened their NEVI application process. Another 17 states have published confirmed or tentative timelines of when they expect to open their application process, with another 22 states/districts/territories still providing no specific timing.
The eight states with their NEVI application process currently open and the deadlines for submitting applications are:
Kentucky: August 24
Oklahoma: September 15
Virginia: September 15
Utah: September 28
Kansas: September 29
Texas: October 16
Tennessee: November 1
Georgia: November 17
Top Winning Bidders So Far
While it is still early with only five states announcing winning NEVI bids, we are starting to see a trend among early successful bidders. Tesla and Pilot Travel Centers account for more than one-third of winning bids at 34.2%. Add in Francis Energy, Sustainability Partners / Aloha Charge, Love's, and Sheetz, and the top six bidders account for 57.5% of all winning NEVI bids to date.
Tesla: 22
Pilot Travel Center: 19
Francis Energy: 8
Sustainability Partners / Aloha Charge: 8
Love's Travel Stops and Country Stores: 6
Sheetz: 6
Other Trend Highlights So Far
A few other high-level trends we are seeing so far, include:
71% of bids where we know the charger kW power rating is higher than the 150 kW NEVI minimum requirement.
Most bidders are, however, sticking with the NEVI minimum of four ports, except for Tesla which is specifying eight and 12 chargers/ports per site.
Average funding requested: $618,671
Least funding requested: Sheetz at $163,838 in Pennsylvania
Most funding requested: Revision Energy at $1,375,784 in Maine
Gas Stations/Convenience Stores and Travel Centers/Truck Stops account for 66% of the total winning site hosts.
Of the 24 bidders where we know the matching funding percentage, 83% of winning bids contributed more than the minimum required matching 20%.